Weather Bomb 1913: Life and Death on the Great Lakes
Author: Bruce Kemp
283pp. $24.95USD/$29.95CDN
ISBN 978-1-38-936050-3
In the dark hours of November 9th, 1913, death screamed across the Great Lakes in the guise of a rare, white hurricane. The storm continued to brutalize the region for most of the following week. It left in its wake cities crippled by devastating snowfalls, paralyzed communications, mysteries that remain unsolved to this day and the corpses of 256 men and women from twelve of the largest ships on the fresh water seas. Weather Bomb 1913: Life and Death on the Great Lakes is an accurate accounting of the causes and costs of the Storm as told by the few surviving witnesses who had a living memory of the carnage, courtroom testimony and newspaper reports of the day. Now modern ship captains and meteorologists contribute their expertise to help explain and define this horrendous "extra-tropical cyclone".
Letters From A Fugitive's Son
Author: Bruce Kemp
436pp $34.95 Cdn/$26.95USD
ISBN: 978-0-9880874-9-1
When General William Tecumseh Sherman asks his old friend Frederick Douglass Macdonald to write to the widow of President Lincoln and describe his service as a black soldier in the Union Army, Macdonald produces more than just letters. His journals and letters reveal an unseen side of the Civil War. Son of a fugitive slave who escaped to Canada, Macdonald was a reporter who met and worked for North America's first black woman publisher, Mary Ann Shadd, before meeting Martin Delany and the legendary John Brown. After turning his back on a promising career, he finds himself in the thick of Sherman's "march to the sea" and working directly for the General. Even after the great victory parade in Washington, the war isn't through with Macdonald. He has no reason to suspect the impending upheaval with his wife – whose own Civil War secret will rock him to the core.  
Coming Soon From Waypoint Press!
Praise For Weather Bomb 1913 From Reviewers
"… And then there is Bruce Kemp and Weather Bomb 1913: Life and Death on the Great Lakes (Waypoint, $29.95). Yes, it is about the Storm of 1913 when weather fronts collided over the lakes. Before when I needed to know about that event, I turned right leaving my office and found it, Gales of November, sitting on a shelf, ignored.  
"I don't think readers will ignore Weather Bomb, a complete… coverage of the darkness that covered the Great Lakes beginning on Nov. 9, 1913. Then, suddenly, a great white Class I hurricane brutalized the lakes with devastating wind storms, a blizzard and general carnage, leading to 256 men and women from a dozen of the largest ships on the freshwater sea [dying]. It was an "extra-tropical cyclone," a storm almost unheard of a century ago.
"Bruce Kemp is an award-winning, internationally known writer and photographer who has covered the globe, reached the Northwest Passage, cover[ed] the America's Cup and written about fine dining in Europe. His cruising guides to the  Great Lakes are welcomed by many a sailor.
"Kemp is also a researcher. Listen to him. 'Still we make our own luck, and there is no substitute for legwork in chasing down stories – particularly if they're a century old. Long hours sitting in from of microfilm machines or interviewing people who actually witnessed an event are the things that pay off, but plain old outhouse luck often smiles on the bone-weary researcher.'
"Weather Bomb is especially fine when Kemp describes the real scene of desperate sailors and the near shore. After this book, I am not sure that there is much left to tell about the Storm of 1913. But there is much left to say about subsequent blows on the Great Lakes, stories left to tell."
Fun Night Reading At Owen Sound's Ginger Press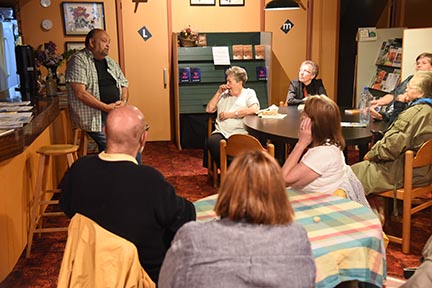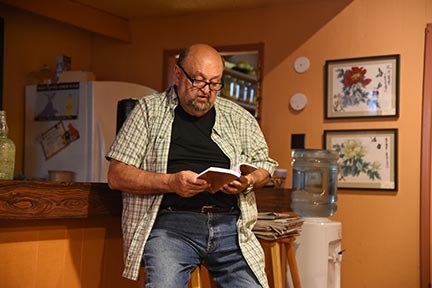 More than two dozen people turned out for my reading at Owen Sound's Ginger Press Bookstore and Cafe (www.gingerpress.com) on June 20. Lots of interesting questions and  comments. Many thanks to Maryann Thomas at Ginger Press for hosting the event. What a wonderful independent bookstore.  
Andrew Armitage – Read This – Owen Sound Sun Times – 16 June 2019
Merrickville and District Historical Society Presentation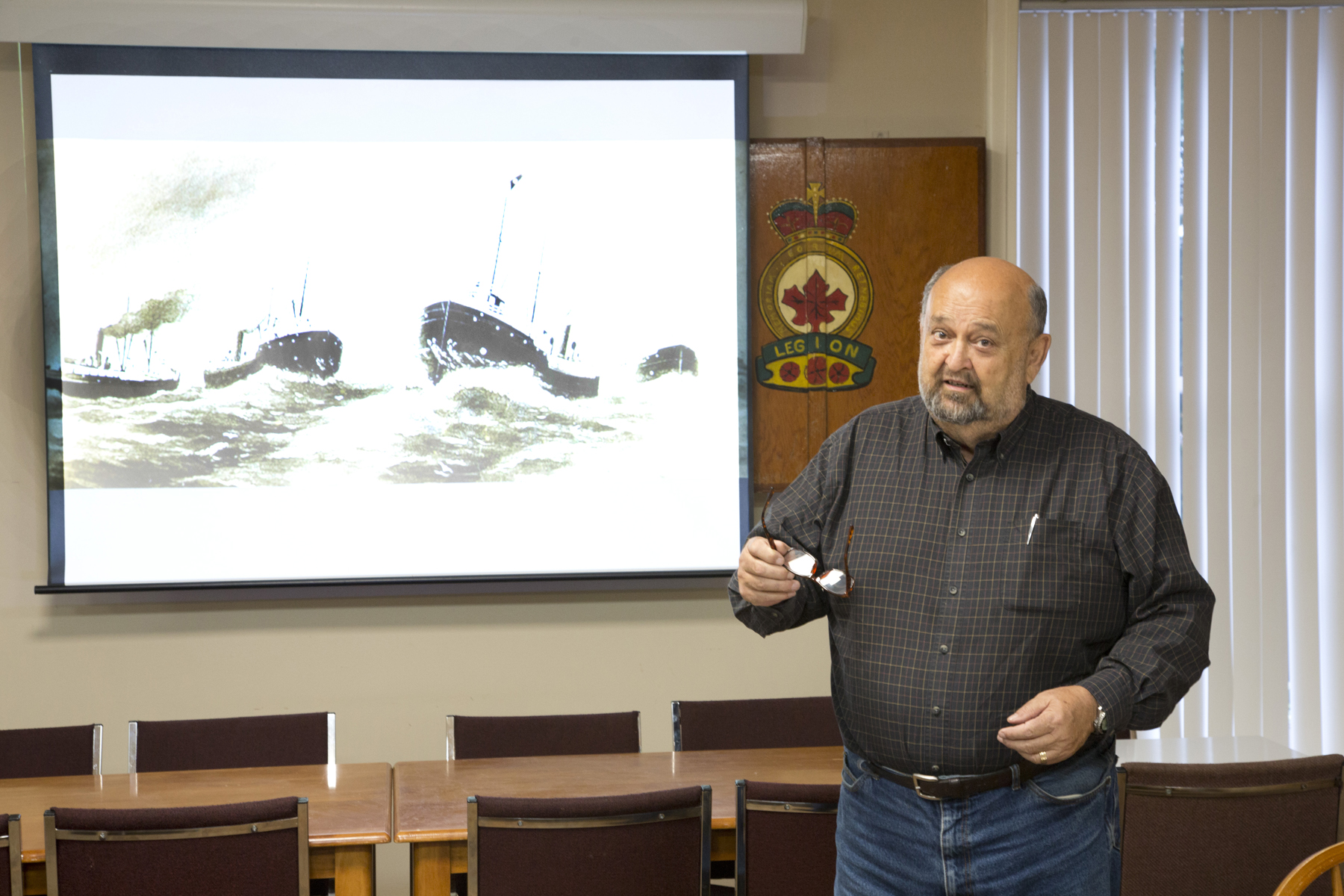 Image courtesy of Laurie Carter/lauriecarter.com
We had a packed house at the Merrickville Legion on September 25 for my presentation to the Merrickville and District Historical Society. Lots of people knew about the Great Storm and the questions afterward made for a terrific discussion. Had to send people home to their beds 😉 Thanks to Ann Martin for organizing the event as part of Merrickville's 225th anniversary celebrations.
Great Lakes Shipwreck Museum Presentation
The docents at the Great Lakes Shipwreck Museum, located on Whitefish Point, Michigan on Lake Superior gave me a splendid reception. Bruce Lynn and his crew hosted me for two days of book signings and A/V presentations. Hundreds of people passed through the gift shop where I was set up signing books and asked hundreds of good and insightful questions about the Great Storm of 1913. I sold a few books too, which always helps. Bruce arranged for me to stay in the Freighter View cottages just down the road from the museum and it was a real treat to wake up in the morning to see a freighter making for the Soo and a commercial fishing boat out setting nets for whitefish. The museum is one of the best marine museums on the Great Lakes. The setting is marvellous and it is located in the old U.S. Coast Guard life saving station on Whitefish Point where the Edmund Fitzgerald was heading when she went down. The light is still an operating aid to navigation, but you can climb its tower with a guide and from the top you can see the area (17 miles out) on the lake where the shipwreck occurred. The staff I had the privilege of working with were knowledgable and passionate about lakes history. The exhibits in the museum were nicely laid out to tell a cogent story about the history above and below the waters of the fresh water seas. If you're in that part of the world I cannot recommend highly enough, visiting the museum. You can link up to it at: www.shipwreckmuseum.com
New Review From Canadian Yachting Online
Weather nerds and boaters of all stripes will be absorbed by Bruce Kemp's account of the monstrous early winter storm, perhaps the largest ever, that hit the Great Lakes in 1913. Countless commercial vessels did not survive the rampage while the communities on the shores also experienced horror.
Kemp grew up in Sarnia, literally fishing on the pier, and has spent his life not far from water as a photographer and journalist bringing boats and sailors' stories to life. The book reflects that dedication, and equally Kemp's commitment to detailed research about a topic that grabs his interest.
Goderich Historic Book Fair
Despite the cool spring weather the Huron County Museum's Historic Book Fair brought out several hundred people to hear discussions and purchase books. I was there with Weather Bomb 1913: Life and Death on the Great Lakes and had a great time meeting new people. Pictured above is yours truly courtesy of Melody Falconer-Pounder/Bayfield Breeze  bayfield.breeze@villageofbayfield.com
Below with Tom Fincher of Fincher's Books and Gifts of Goderich – the local outlet for Weather Bomb finchers@hurontel.on.ca  It was great to finally meet Tom in person and to talk about local history.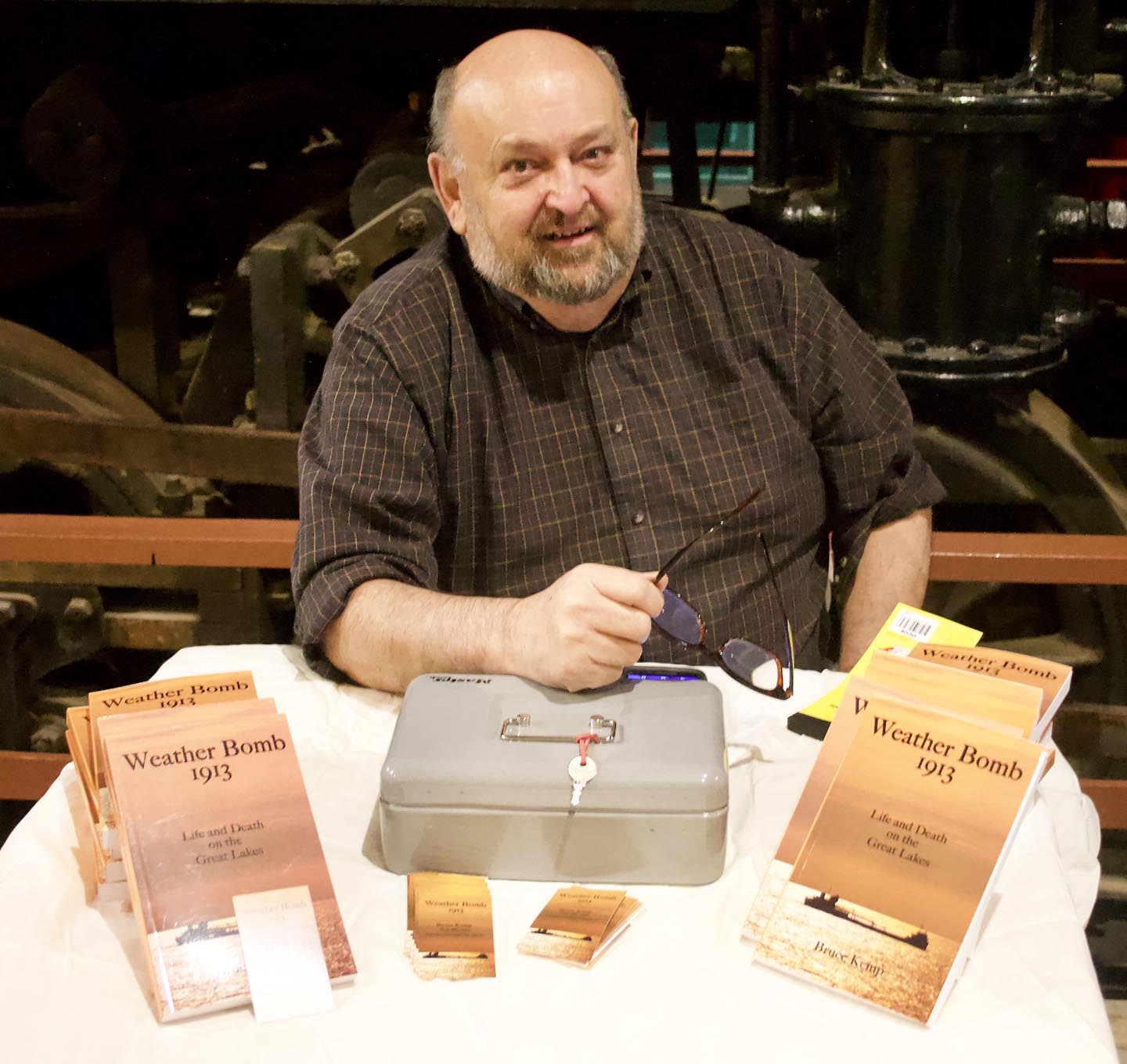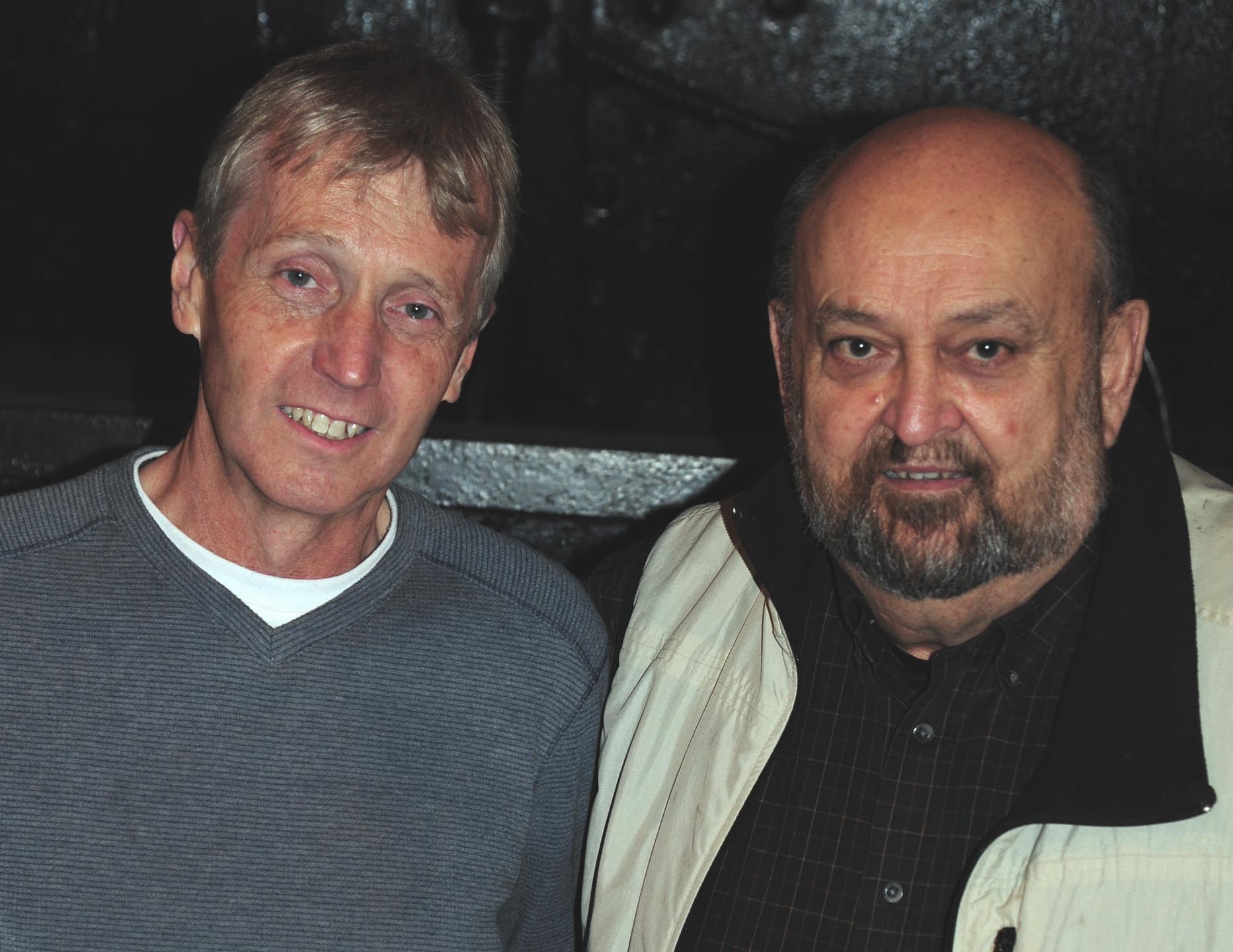 Weather Bomb Reviewed By Boatnerd.com
"Most Great Lakes enthusiasts are familiar with the Great Storm of 1913 and the resulting horrific loss of ships and men. There have been many other excellent volumes written on the subject over the years, and now comes another, by Canadian journalist Bruce Kemp. Kemp's research included interviewing the last surviving witnesses and combining through courtroom testimony and newspaper reports, adding insights from contemporary ship captains and weather scientists about what caused that momentous event. Forty years in the making, this worthy 283-page volume is a detailed, engaging and highly personal account of disaster that still resonates with those who love the lakes." – Roger LeLievre, boatnerd.com
Weather Bomb Review In Salty Dips
From time to time, book reports will appear in The Binnacle drawing attention to new works or older books that should not be forgotten, particularly Canadian publications. The Binnacle is the newsletter of the Naval Association of Canada-Toronto Branch) 
Weather Bomb 1913 – Life and Death on the Great Lakes
by Bruce Kemp
Waypoint Press, 2017
Almost everyone has heard of the sinking of the Edmund Fitzgerald, a Great Lakes "Laker", either because we read of its sinking in 1975 or heard the Gordon Lightfoot song:
                            "… Superior they say never gives up its dead
                                When the gales of November come early."
In an age of radar, electronic communications and constant marine forecasts with updates, she sank, with no SOS, leaving hardly a trace. After the enquiry by the U.S. Coast Guard and National Transportation Safety Board, it appeared that the sinking was probably caused by cargo hatches that gave way, which led to the holds flooding.
Much less is known by Canadians of the huge disaster on the Great Lakes in November 1913 when over 290 sailors lost their lives. Thanks to the extraordinary research of respected author Bruce Kemp, we now have a picture of what may be the greatest storm known on the Lakes. The opening chapters are presented in a "you-are there" style that brings to life the characters on the Lakes, their courage and faults. This is followed by analysis of the weather, the ship sinkings, the lack of sufficient navigation aids to assist safe seamanship and the quality of design and construction in that era, for example, poorly secured wooden hatches that blew away in the unprecedented storm. read more…